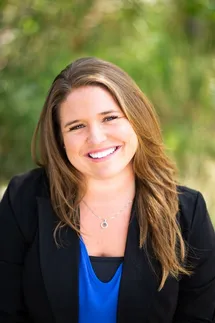 BRITTANY HUNTER REBSTOCK, M.S., LMFT
Pronouns: She/Her/Hers
Direct contact for current clients- [email protected]
For as long as I can remember I have wanted to work in the field of psychology, and have been actively pursuing a career as a therapist since high school. This long-term professional goal led me to the University of Oregon, where I received my Master's degree in Couples and Family Therapy. I have spent the last ten years working closely with individuals, couples, families and running therapeutic groups. Prior to beginning our private practice, I worked in community mental health agencies and in a day treatment school setting for students struggling with social, emotional and behavioral issues. My specializations include working with grief and loss, trauma healing, relationship issues and enhancement, adolescents, and goal-oriented dynamic coaching.
My mission as a therapist is to walk with you, and guide you, on your healing journey. I strive to help clients find balance and stability in the many overarching circles that this life brings to us. Life transitions and change can present many challenges both interpersonally and within your relationships with those around you, and I work to help my client's anticipate and embrace change. I highly value self-care and self-love and am intentional about exploring this with those I work with, recognizing how unique and different these concepts can be for each and every individual. I believe in the influence that our attitudes and reactions can have on our lived experiences, and that bringing awareness to this has the ability to to help people navigate the many challenges that life can present. Though others would describe me as a positive person, I also recognize that being positive isn't always possible, and that there is growth and healing in sitting in the more negative spaces we experience to help move through them together.
My approach to therapy reflects my belief in the resiliency of the human spirit, which guides my work from a collaborative, strengths-based, client-centered therapeutic stance. My work with individuals, couples and families is strongly informed by my training and experience in utilizing evidence-based models including: solution-focused brief therapy (SFBT), emotion-focused therapy (EFT), trauma-focused cognitive behavioral therapy (TF-CBT), and dialectical behavioral therapy (DBT).
I am highly motivated to empower others and to help my clients recognize their inherent strengths. I set out to gain an understanding of each client's life goals and vision and to help breakdown the barriers that are hindering their pursuit of those fulfilling aspects of their lives. I wholeheartedly believe in the power to influence your own story and in the positive impact that creating a therapeutic relationship can have on your life and the lives of those around you. I am honored, and genuinely grateful, to be in a position to work so closely with clients and to give back to the community that I was born and raised in.